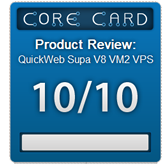 SOLID STATE DRIVE POWERED - VIRTUAL "dedicated" SERVERS
Supa V8 SSD OpenVZ Virtual Server Plans
The new QuickWeb Supa V8 Solid State Drive (SSD) powered Virtual Servers are built for speed, powered by the latest solid state flash memory technology to give you unparalleled I/O performance as well as reliable data storage at unbelievable prices!
SSD VM1
SSD VM2
SSD VM3
SSD VM4
CPU Core(s)
1
2
3
4
Memory
256MB
384MB
512MB
768MB
768MB
1GB
1GB
1.5GB
Swap Space 
384MB
768MB
1GB
1.5GB
Solid State Disk Space
5GB
10GB
15GB
20GB
Bandwidth Included
500GB
600GB
750GB
1TB
VPS Port Speed
100 Mbit
100 Mbit
1000 Mbit
1000 Mbit
Server Management
Self
Self
Self
Semi
FREE instant setup
Yes
Yes
Yes
Yes
VPS Manager
Included
Included
Included
Included
VPS TimeMachine Backup
Included
Included
Included
Included
Price
$9.95/mo
$14.95/mo
$19.95/mo
$24.95/mo
VPS in Los Angeles (CA)
VPS in Phoenix (AZ)
VPS in Jacksonville (FL)
VPS in London (UK)
Why Solid State Drive is better?
Solid State Drive is the latest in storage technology and has no moving parts and unlike traditional disk drives they don't produce heat, QuickWeb only uses high performance, tried and tested Intel and Samsung SSD drives  (in RAID configuration) that are rated for over 1 million hours mean time before failure and offers substantial performance boost (with proven over 1000 times IOPs) compared to conventional mechanical hard drives.
Why get QuickWeb Supa V8 VPS?
With the price of SSD drives falling and technology matures today is the best time to experience new level of server performance without breaking the bank as the price of QuickWeb V8 SSD VPS Plans are designed to suit your budget.  We priced it to complete with regular VPS using traditional storage medium such as SATAs or SAS, at QuickWeb you will get generous amount of  SSD storage in our various V8 plans at lowest price possible.
QuickWeb V8  SSD Servers are best suited to server or website that utilise extensive random read write (I/O) operations such as site that access back-end databases like:
E-commerce websites
Community Forum sites
Dynamic blogs
Photo galleries
Data mining apps
Search engines
Flash heavy websites
and about anything else!

Choose from Available OS with our fast Instant server setup after your payment!
Choice of linux flavours are avalable for free- CentOS, Fedora, Debian, Ubuntu, Gentoo etc.
You can use free web hosting panels for free - Kloxo & Webmin cPanel & Direct admin licenses are available for additional fee.